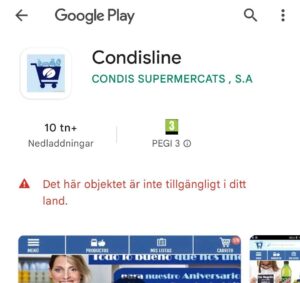 I'm not able to install or use the DIA Club app or the Condis app.
This is probably due to a simple misunderstanding from the app developers – They have indicated that their apps should be available for Spain. But this setting is used in a stricter way than they may expect.
As a result, I'm not allowed to install and use their apps.
If I search for their apps, via Google Play, I won't find them. They simply "aren't there".
The reason for this becomes visible when I specifically visit the page of the app. It says, in red letters: "This object is not available in your country." In other words, Google is here imposing the kind of restriction that usually would apply for regionally restricted content – TV programming, etc.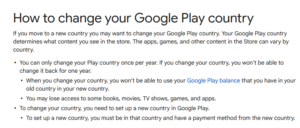 So should I just "change my country"?
Well, that has its limitations, too:
– You can never change your "Google Play country" more than once per year.
– Any saved "Google balance" becomes unavailable.
– You may lose access to any TV shows, books, etc. that are limited to your previous country.
Also: In order to change your country, you must have a local payment method.
In other words: If someone who lives partly in Spain, and partly somewhere else, you're restricting them from using your app, probably due to a simple misunderstanding. Quite a few of your customers may not be able to set their country to Spain, but I bet you still want us as your customers?